Reliable PCB prototyping services with the highest quality.
For PCB prototyping, we are able to manufacture low volume single and double-sided PCBs to complex multilayer PCBs with blind and buried vias at affordable prices.
From an electronic hobbyists to an established fortune 500 company, we are able to handle all of your PCB prototyping requirements in-house. Unlike PCB brokers, we don't outsource your work to other companies and you deal directly with us, the PCB manufacturer. We have a state-of-the-art manufacturing facility located in Phoenix, Arizona with over 18,000 square feet of fabrication machinery.
Get a PCB Prototype Quote
Submit your PCB design
Low volume PCB prototypes
We provide the most cost efficient solution for PCB prototyping to our customers. With low minimum lots, you will get more boards for the price compared to other PCB companies that charge per board. Also, Custom Circuit Boards doesn't put any restrictions for prototype boards. For example, we don't charge extra depending on the number of drill holes needed like other companies do. We are committed to straight forward pricing that you can rely on every time. We don't nickel-and-dime our PCB customers with random service fees.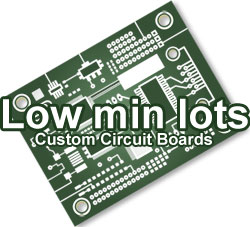 Accurate PCB quoting
Currently, we are reviewing boards individually in order to provide the most accurate quotes to our customers. However, if you aren't finished with your design yet or looking for a budgetary quote, you can still submit your printed circuit board information with our online quoting system here. After filling out your "Contact information", click the "You don't have your Gerber files yet" button. For a budgetary PCB quote, we will need to know your board name, quantity, board size, number of layers, and minimum hole size. It is a good idea to also let us know if there is any other additional manufacturing guidelines that could alter the price. We will respond back with your quote within the order that it was received.
Note: We recommend that you attach your Gerber files instead of using the "You don't have your Gerber files yet" option. We will eventually have to have your Gerber files before being able to manufacture your boards. If you need someone to design your board, please let us know and we can recommend a variety of qualified PCB designers.